Engine Coolant Freezer Point Analysis Instruments/Measurment
Seller

Chongqing TOP Oil Purifier Co., Ltd.

Min. Order

1 Set/Sets

FOB Price

US $1-3500 /Set
Item Details
| | |
| --- | --- |
| Port: | Shanghai/Chongqing |
| Supply Ability: | 200 Set/Sets per Month |
| Payment Terms: | L/C,T/T |
Product Description
Engine Coolant Freezer Point Analysis Instruments/Measurment
Application


This instrument is designed and manufactured under the requirements of standard GB/T 2430 in "determination of jet fuel freezing point" and petrochemical standard SH/T 0090 in"determination of engine coolant freezing point", which is promulgated by The People Republic of China, suitable for corresponding freezing point test in accordance with the two standard methods.

Features
1.The instrument's work cold is made of stainless steel. It has double vacuum glass observation windows. It adopts advanced temperature control technology. The lowest temperature is up to -70℃, and the temperature control accuracy is ±0.5℃, which fully meets the GB/T 2430,SH/T 0090 standard requirements in freezing point test. It can stir continuously and evenly.
2.It can be used for jet fuel, engine coolant and the index test of its concentrate solution's freezing point depends on the configuration you choose. It is a multi-purpose freezing point tester. It has characteristics of precise temperature control, digital display, PID parameter setting and zero-impulse control.
3.The instrument is desktop structure, and the workbench is composed of stainless steel. It is easy to operate with simple design, beautiful appearance and complete accessories.

| | |
| --- | --- |
| Model | TP-2430 |
| Power supply | AC 220V±10%, 50Hz |
| Working cold trough | stainless steel cold trough, double vacuum glass observation window |
| Cold trough temperature | +20℃~-70℃ |
| Temperature accuracy | ±0.5℃ |
| Bath agitation | motor automatic mixing, power 6W, 1200r |
| Cooling system | new refrigeration compressors |
| Sample stirring | EMS, (0-120)beats/min |
| Ambient temperature | ≤30℃ |
| Relative humidity | ≤85% |
| Total power consumption | less than 2000W |
Chongqing Top Oil Purifier Co., Ltd
Located at Chongqing city--a southwest electromechanical manufacturing center as well as national municipality, Chongqing TOP is a professional leading manufacturer and supplier of oil purifiers and various related testers. Our company consists of departments respectively for technological development, machinery manufacture, instrument manufacture and quality control etc. On basis of mature development and manufacture technology and highly qualified production management team, the products have high quality, easy operation, excellent performance and long service life.

Our Laboratory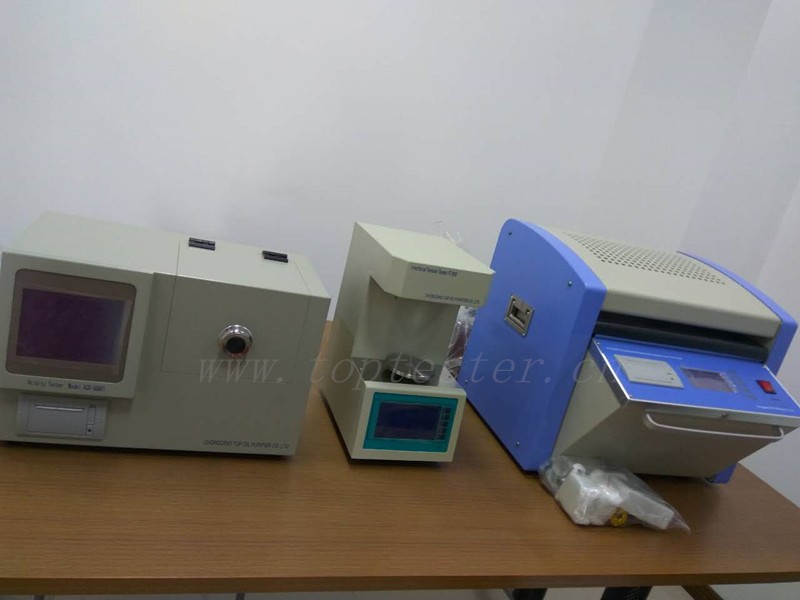 Pre-sale Service
*Recommend the most suitable machine according customer's demands.

* Professional pre-sale model/configuration selection advise and technical support -- offered by experienced technician.

* Free on-site installation, debugging and technical training -- offered by strictly trained technology application engineers.

*Offer OEM service.

After-sale Service
* The warranty period is 24 months from commissioning acceptance date on. After the warranty period is over we provide lifelong maintenance and technical service.

* We guarantee the maintenance time no more than 3 working days and response time within 1 hour.

* We build instrument service profile for our clients to record the product service and maintenance conditions.

* After instruments start service, we will pay follow-ups to collect the service conditions.

Safe and Timely Transportation
*Standard export wooden case with high quality cushioning material ensures that the customers get the item in good condition.

*Carefully check every packing detail before delivery to avoid any troubles during the transportation.

*Appointed logistics company could be used according to customers demands.

* Do our best to make sure customers can get their goods in time.

Our oil filtration machine:
Series ZY Single-Stage Vacuum Transformer Oil Purifier
Series ZYD Double High Vacuum Transformer Oil Purifier
Series ZYB Multiply-Function insulating oil treatment machine
Series TY Turbine Oil Purification Apparatus
Series TYA Lubricating oil/ hydraulic oil purification unit
Series TYB Portable light Fuel oil purification machine
Series TYD Vacuum dehydrator
Series TYF Phosphate ester fire-resistance oil purifier
Series PL Plate pressure oil purifier
Series TYD Vacuum dehydrator
Series EFD Explosion protection filtration machine
Series BAM Press filtration system
Series ZKCC Vacuum pumping device
Series COP Cooking oil purification machine
Series CYS Centrifugal oil purification machine
Series JL Portable oil filtering and oiling machine

Petroleum Products General Testers
1.Fully Automatic Karl Fischer moisture Tester TP-2100
2.Digital Karl Fischer Water Content Tester TP-6A
3.Kinematic Viscosity Tester VST-2000
4.Transformer oil breakdown voltage tester IIJ-II
5. Lubricant oil residual carbon tester CS-0625
6.Fully Automatic Oil Acidity Tester (6 cups) ACD-3000I
7.Fully Automatic Surface/Interface Tension Tester IT-800
8.Automatic Surface/Interface Tension Tester (Platinum Plate Method) IT-800P
9.Fully Automatic Open Cup Flash Point Tester TPO-3000
10.Fully Automatic Closed Cup Flash Point Tester TPC-3000
11.Digital Open Cup Flash Point Tester TPO-100
12.Digital Closed Cup Flash Point Tester TPC-100
13.Cloud Point & Pour Point Tester PT-2000
14.Multi-functional Vibration Tester VBT-2000
15.Automatic Potentiometric Titrator TP668
16.Petroleum Products Density Tester DST-3000